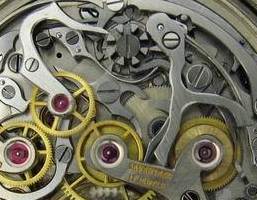 WE ARE ABLE TO:
-SERVICE CONTEMPORARY WATCHES FROM BEST BRANDS
-RESTORE VINTAGE AND MILITARY WATCHES
-REBUILD PARTS
-RESTORE DIALS AND LUMINOUS HANDS

WE DO NOT REPAIR FAR EAST "REPLICA" WATCHES


---
"Watchmaking..."
My family art was estabilished in the second half of the '800 by my great-greatfather Luigi as shown in the original screen picture. This activity keeps on son to son up to my grandfather, who led me to this small world since i was a child.
Milwatchmaker comes from my interest in milwatches, thanks to English and American fora and collectors who taught me the little i know.
In the last 20 years, watchmaking has changed and watch collecting has enclosed new watches, never considered before. From antique pocket and clocks, the new collector range have moved up to the last branded mechanical wristwatches issued before the great Swiss crisis of seventies owing to the new quarz movements. Just few brands survived.
Nowadays, watch collectors are very interested in keeping in good condition all external parts of their wristwatches, while once they look at them just as tools to read time.
So modern watchmakers, to achieve a well done restoration, have to be able to restore esthetic parts, besides being good technicians able to deal with movement damages. Infact, while in the past clock restoration stand basically for construction of antique gear parts, nowadays watchmakers have to refinish, for instance, damaged cases without having the tools used in the original industrial machinery, or restore a dial or hands matching the original shades, all of these tasks aimed to perform a realistic vintage restoration. Moreover, mechanical movements must be treated by the best care, because a lot of spare parts are definetely discontinued from market.

On this web site you can see some of my works, but i'm always keep studying new things to ways to restore our beloved watches so....stay tuned !